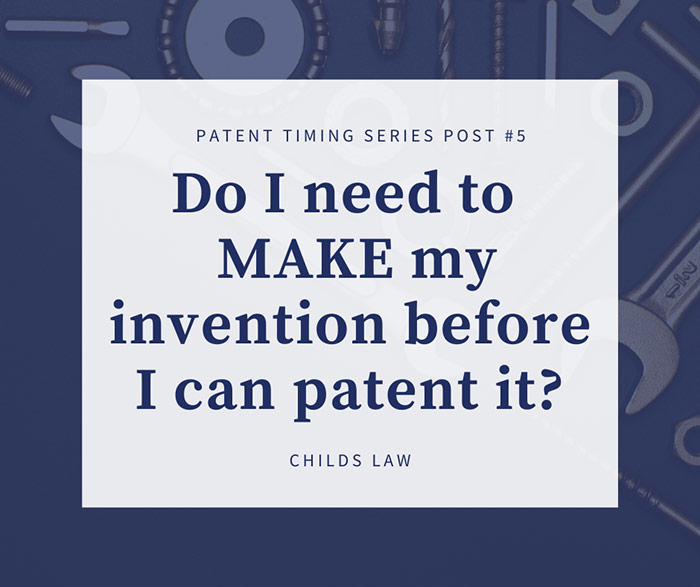 Don't Wait!
I get calls from entrepreneurs and startups all the time who want to patent their invention but tell me they're not ready yet because they have not had a chance to make their invention yet. This can be a huge mistake because waiting to file your patent application until you've made your invention may cause you to lose the race to the Patent Office.
There are NO second chances in Patent Law.
No, you do not need to make a prototype or working example of your invention before filing a patent application.
Many inventors, especially startups, know exactly what they need to do to make their invention or perform their process. They just don't have the money, time, or access to the resources right now.
That's fine. Patent law gets it. All you need to be able to do is tell me how to make and use your invention. I need the recipe, not the drug. I need the design, not the medical device.
But that's for an invention that you know will work. For example, many entrepreneurs and inventors in the mechanical, electrical, and software fields know their designs will work.
If your invention is in the less predictable fields of biotechnology and chemistry, then you often need to provide a lot more detail to convince patent examiners that your invention is likely to work. If you claim to have a cure for cancer or a vaccine for COVID, then you will probably want to include some evidence, such as proof that it kills cancer cells in mice or prevents the spread of COVID to Millennials and Gen-Z (think courageous volunteers with hopefully great immune systems).
Ready to start raising funding?
Call us 832-621-0353 before you risk losing your intellectual property rights.
5.
Do I need to Make my invention before I can patent it?